There are a few things to know before you set off cycling in Cornwall. From where to take a break from your cycling, what to eat, road conditions, to essential bike tips, read on to find out our top tips to commence cycling in Cornwall.
Fish & Chips
A staple in Cornwall, and in the rest of England we can safely say.
If you're on the stunning Roseland Peninsular and you're looking for fish & chips, track down the Atlantic Fryer van. He's in Portscatho every Tuesday and Thursday. The fish and chips are simply mouth-watering, amazing cod loin fried in an amazing light batter cooked in beef dripping accompanied by great chips.
Store Safely
Where you park your bike, what you lock it with and what you lock it to are important in protecting it from being stolen. Lock your bike to something immovable in a well-lit public place. Locking two bikes together is better than locking them individually. Use a chain with a lock to secure the wheels and saddle to the frame and when possible to a bicycle stand.
Praa Sands Beach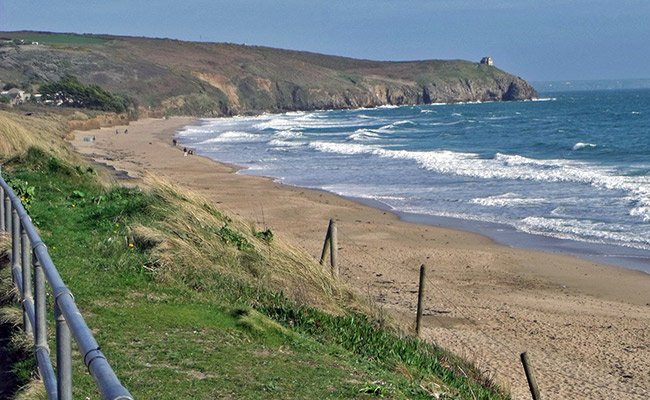 The mile-long sandy beach of Praa Sands is backed with sheltering sand dunes. Its easily accessible position is enjoyed by families having fun in the shallows, while further out the surf brigade take on some surprisingly big waves. There are some pretty good stop-off points to sit back and soak up the fun seaside vibe.
Traffic
Cornwall is a popular tourist destination and especially from late June to late August, even the quieter roads can be busy where they pass beaches and the National Trust properties. Please be courteous to traffic and make clear hand signals, especially if you are going to suddenly stop on a hill. Also be careful on steep descents, which can be winding, narrow, high hedge sided and steep. Often the drivers in these areas are fairly slow if they are tourists as they don't know the roads, they are fast if they are local as they do! On this ride you are mainly on 'C' and 'B' designated roads, there are only short sections on busier 'A' designated roads and in this case they often have a dedicated cycle pavement on the side.
Cornish Pasty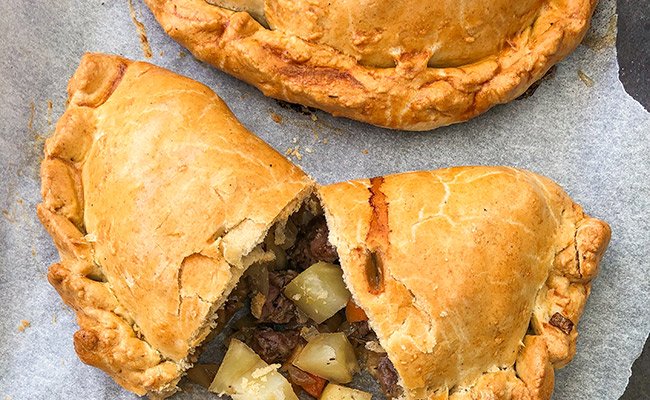 It is only fitting that a local bakery, the Chough Bakery in Padstow, have won the Cornish Pasty World Champions. The traditional bake was carried down the mines by the tin miners. Originally, some pasties had one side savoury with a fruit or jam end for desert. The crimpled side was held onto but then discarded uneaten as it would be tainted by toxins on the hands from the mining operation. Today you can eat it all.
Coastal Roads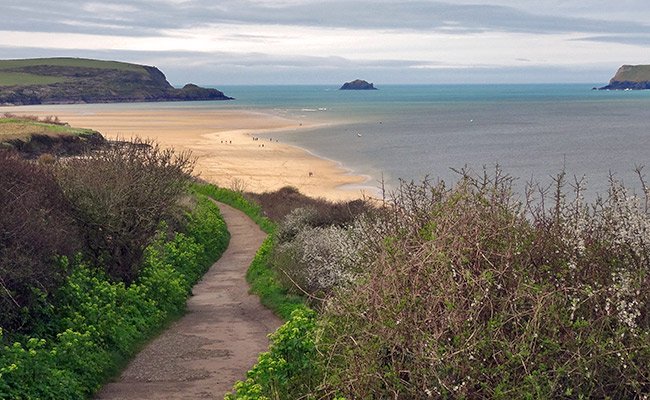 Unfortunatly, when cycling in Cornwall it won't be possible to follow the South West Coast Path – that is a walker's domain. Some of the trail could potentially be cycled, but would involve a lot of technical mountain biking. Instead, we advise to follow the quieter roads of Cornwall. When you stay parallel as much as possible with both the sea and the South West Coastal Path, you'll be amazed of the wealth of coastal scenery. Cycle past rugged cliffs and to sandy beaches, from sleepy coves to marshes and to cape and headland.
Ride confidently
Indicate clearly to other road users what you intend to do, particularly when turning right. Look behind you, wait for a gap in the traffic, indicate by sticking your arm out, then turn. If you have to turn right off a busy road or on a difficult bend, pull in and wait for a gap in the traffic or go past the turning to a point where you have a clear view of the traffic in both directions, then cross and return to the turning.
Use lights and wear reflective clothing at night and in poor light. Do not ride two-abreast if there is a vehicle behind you. Let it pass. If it cannot easily overtake you because the road is narrow, look for a passing place or a gate entrance and pull in to let the other road user pass.
The Tinners Arms Pub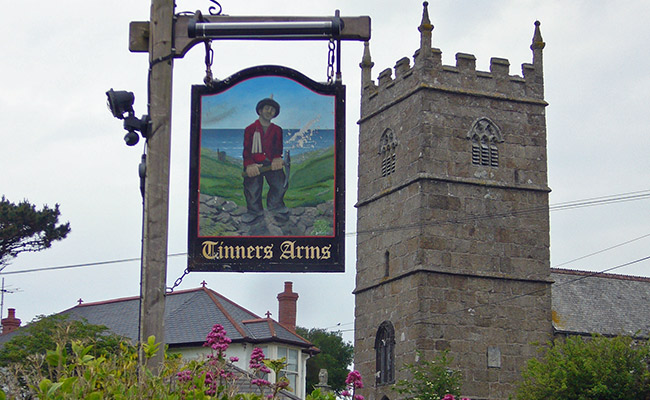 In Zennor near St Ives, you will almost certainly pass The Tinners Arms. The pub was built in 1271 to accommodate the masons who constructed St Senara's Church, which is famous for its mermaid. With its open log fires, stone floors and low ceilings it has changed little over the years. You can now get a traditional pub experience with real Cornish ales and carefully prepared food using the best of local ingredients.

Cycle in Cornwall with UK Bike Tours
Take a fabulous cycle journey to take in around about two thirds of Cornwall – winding in and out of coves and bays. There is a lot of cycling up and down, but none of the days are particularly long and you will have a lot of time to dawdle and take in the scenery. Learn more about the cycling trip in Cornwall now, or contact our team of cycling experts.