Explore the most charming English region of the Cotswolds at handlebar level. Take a cycling holiday in the Cotswolds and you'll be able to cover more of the quintessential English towns and picturesque countryside.
There are a few things to know before you set off cycling in the Cotswolds. From some of the best places to take a break from your cycling to essential bike tips, read on to find out our top tips to commence cycling in the Cotswolds.
Picnics
You will find so many beautiful picnic spots on your cycling holiday in the Cotswolds, that we certainly advice to make use of this opportunity to quietly take in the countryside. Picnic materials can readily be obtained from bakeries and groceries in each of the towns and villages where you stay, can be asked to be prepared by your accommodation, or can even very often be found en-route.
Ride confidently
Indicate clearly to other road users what you intend to do, particularly when turning right. Look behind you, wait for a gap in the traffic, indicate by sticking your arm out, then turn. If you have to turn right off a busy road or on a difficult bend, pull in and wait for a gap in the traffic or go past the turning to a point where you have a clear view of the traffic in both directions, then cross and return to the turning.
Use lights and wear reflective clothing at night and in poor light. Do not ride two-abreast if there is a vehicle behind you. Let it pass. If it cannot easily overtake you because the road is narrow, look for a passing place or a gate entrance and pull in to let the other road user pass.
Deerhurst
This village along the River Servern has two Saxon churches and is a pleasure to discover. The Priory Church of St. Mary was built before 804AD and much of the church dates from then. It has areas of Saxon herringbone work and a 19th Century font. The other church, Odda's Chapel, is one of the most complete Saxon churches that can be found in the UK. It has a simple rectangular nave and a smaller rectangular chancel. It was discovered in 1885 during repairs to the half-timbered farmhouse to which it is attached. There are some timber framed cottages in Deerhurst village that you can pass with your bike that make it even more charming.
(Sunday) Roast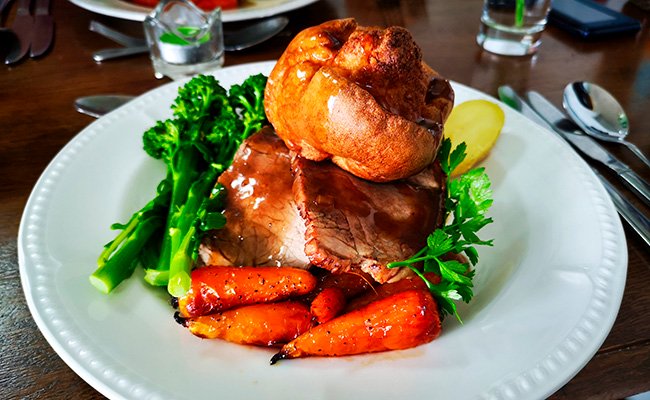 England happens to be blessed with public houses (the famous pubs) that often offer a full bar menu from lunch time until the late afternoon. It's good to know that these are sometimes priced so competitively that you will be hard pressed providing a similar type of meal for yourself. Especially on Sundays, the traditional Sunday Roast is a good reason to start your day early and finish off in the local pub with roasted meat, roast potato, vegetable trimmings, Yorkshire pudding and sauce.
Stroud
Stroud is a working town that is centred on five valleys and hills. It was a very important Cotswold cloth town and still produces green snooker baize, the cloth for Wimbledon tennis balls and red guardsman coats. When you cycle through the village, you'll notice there is a Victorian parish church in the shambles and you can visit former working mills at certain times of year (please ask our team). Designer Jasper Conran described Stroud as 'the Covent Garden of the Cotswolds'.
Traffic
Taking your cycling holiday with UK Bike Tours means you will spend a minimal amount of time on busy roads, but you will inevitably encounter some traffic. Be very careful with cycling fast on the narrow, twisting country roads as you can suddenly come face to face with a tractor or a fuel supply lorry coming the other way. Be highly aware of what is going on around you and ensure that other road users are aware of you.
Guiting Power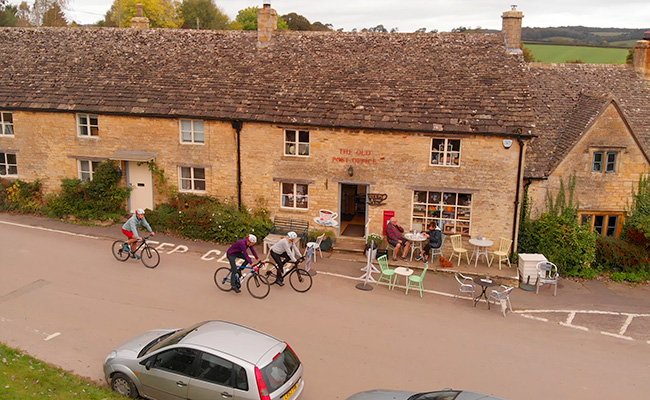 Guiting Power is a quintessential Cotswold village situated in the Heart of England, between Winchcombe and Stow on the Wold. It has an ancient stone cross on the village green, mossy roofs, roses and wisteria clambering up the mellow walls; much of it just the same as four centuries ago. There are two pubs in the village, both within a short walk from your guest house. The Hollow Bottom pub and restaurant is well known for its racing connections and you are guaranteed a hearty meal and good pint. The village (that actually featured in the TV series Father Brown) also boasts a local shop which offers all the essentials, as well as baking its own bread on the premises. There is a small gift shop which serves teas, coffees and a selection of homemade cakes. All in all, you will find this to be a fantastic town to overnight during your Cotswold cycling trip.
Store Safely
Where you park your bike, what you lock it with and what you lock it to are important in protecting it from being stolen. Lock your bike to something immovable in a well-lit public place. Locking two bikes together is better than locking them individually. Use a chain with a lock to secure the wheels and saddle to the frame and when possible to a bicycle stand.
---
Want to explore the Cotswolds on a cycling holiday yourself? With UK Bike Tours you can choose from self guided Cotswold by Bike holidays between March and October. There is a 7-day option or an 8-day one with an extra day in Guiting Power. Learn more about the trips now, or contact our team of cycling experts.